Risk factors – Filters at danger
The variety of the kidneys' tasks matches the variety of risk factors for their impairment. Since the kidneys are involved in many key body functions, they are also exposed to great danger in case of chronic comorbidities: Epidemic diseases like diabetes and high blood pressure not only cause harm to heart and blood vessels but are also the main culprits for the high prevalence of kidney disease globally. Thus, it is pivotal to treat and control the underlying diseases to limit their effects on kidney health. Likewise, some drugs, lack of physical activity, smoking, poor nutrition and a high cholesterol level put the kidneys at risk. Further risk factors include genetic factors like polycystic kidneys, infections of the renal tissue, kidney stones and tumours.
Diabetes – Sugar damages the vessel walls
Diabetes, a metabolic disease marked by chronically elevated blood sugar (=glucose) levels, can impair the kidneys and result in chronic kidney disease. Whether type 1 or type 2 diabetes, the increased glucose levels will cause progressing damage to the renal tubules. The kidneys filter small substances like salts, urea, and other metabolic waste products via the delicate tiny vessel walls of the kidney corpuscles and excrete them via the urine. Larger blood components such as proteins normally can't pass the vessel walls and remain in the body. But the constant exposure of these small kidney vessels to elevated levels of blood sugar eventually results in leaks of proteins into the urine. The kidneys lose their filter function. The blood protein albumin can then be found in the urine, pointing to kidney disease because of diabetes.
Approximately 30 percent of patients with type 1 diabetes and 20 percent with type 2 diabetes contract diabetic renal disease within five to 15 years. Renal impairment progresses slowly and remains undetected for a long time - usually until it is too late. Therefore, routine check-up of blood sugar, urinary albumin excretion and blood creatinine levels are indispensable.
If in addition the diabetes patient is a smoker, this has an accelerating effect and advances the detrimental process, resulting in the destruction of renal tissue.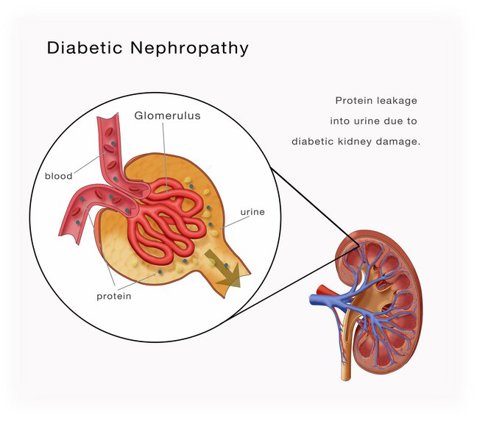 High blood pressure – the dilemma of chicken and egg
Hypertension is the second most frequent cause of chronic kidney disease. At the same time, high blood pressure is a symptom of declining kidney function and thus kidney disease. So, what was there first? If hypertension is present, the blood is pumped through the body with higher pressure than is beneficial for the vessels. With normal blood pressure, the systolic value (the pressure while the heart muscle contracts) is below 140 and the diastolic value (the pressure when the heart relaxes) is below 90. Any higher blood pressure is too high – and damaging to the renal corpuscles in the long term.
In the long term, elevated blood pressure causes the delicate kidney vessels to harden and tighten up. Such damage to the renal vessels results in impaired renal blood circulation, and kidney tissue dies off. A vicious circle gets going as the kidneys with their declining function start releasing more hormones which increase blood pressure, and excrete too little water and salt, further increasing blood pressure.
Proper management of hypertension can delay for years the need for dialysis , even if renal function is already severely impaired.
Handle with care: Medication
Certain pain killers and certain other medication can impair renal function if taken inappropriately and over extended periods of time.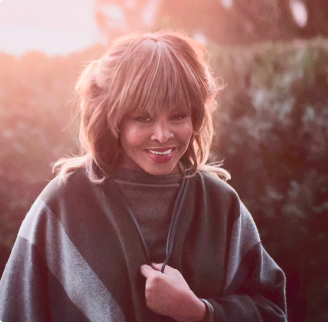 The struggle for recovery is also always a struggle for the right information!
Tina Turner
Pre-existing chronic kidney conditions
While diabetes and hypertension are the most frequent causes for chronic kidney disease, renal function may also be harmed by a blocked ureter, certain hereditary kidney conditions like polycystic kidney disease, as well as kidney infection (glomerulonephritis) or auto immune diseases. There are more than 300 hereditary, congenital, or acquired diseases, but they are altogether rather uncommon. Even if there is no therapy for their underlying reasons, renal function should be monitored routinely.

The importance of a check up
Almost as simple as washing hands - a little urine test could prevent dialysis and transplantation.